Overnight thaw.
2nd January 2014
Good news. Our snow cover isn't going to blow away after a significant overnight thaw. The snowpack is firm with some breakable crust around but great cover above 800 metres.
Friday looks an interesting day, very windy with snowfall throughout the forecast period.
Al looking down to an avalanche from a gully in Corrie Kander. Not sure when it occurred, appears to have a lot of ground debris in it, it could have been last night but there have been several thaws at this altitude.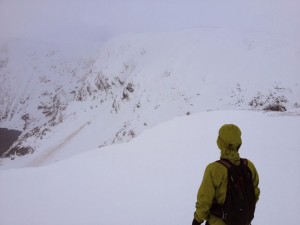 Comments on this post
Got something to say? Leave a comment