White Christmas…
25th December 2013
Seem to be repeating ourselves at the moment, but there hasn't been much let up in the wind speed for quite some time.

It was another lonely day on the hill as the A93 was closed for the fourth day in a row due to the road and weather conditions. The word locally is that it will open tomorrow but be aware that it will need some work first thing to get it fit for all vehicles.

There will be a brief respite in the weather tomorrow with a drier less windy day forecast for the main part of the day, but be aware that blizzard conditions are forecast to return in the early evening.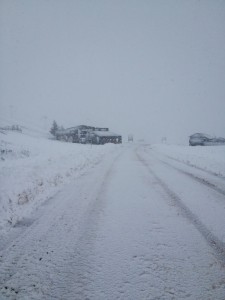 Glenshee Ski Centre & the A93 during a snow shower today
Comments on this post
Got something to say? Leave a comment