A wee ski.
29th December 2013
Today was probably the nicest day since we started reporting this season. We took the opportunity to get on the ski's. Short skin at to The Cairnwell. Any higher put you back in the clag. Amazing to see so many ski tourers out today.
Some aspects are very windblown and icy.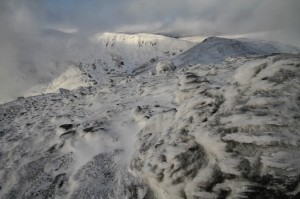 Al adopting hero pose. Plenty ski touring cover above 600 metres.
The soft snow at the top of 'The Tiger' didn't last long, but it was still a good way back down.
Comments on this post
Got something to say? Leave a comment