Sunshine and Showers!
12th April 2013
Actually just very light snow flurries that fell gently through the sunshine – quite a strange experience. It was a lovely day with almost negligible winds and it felt very warm in the sun.
The Glenshee Ski Centre is looking awesome for the time of year with runs complete from top to bottom and from fence to fence. The pistes are really well groomed and everyone seemed to be having a great time in the sun.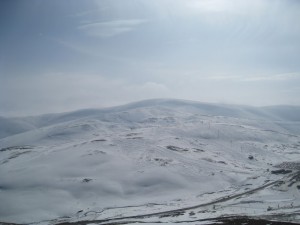 Looking across Sunnyside to complete snow cover on Glas Maol
We really have had an amazing season and with the recent top ups of fresh snow, skiers continue to make fresh tracks all over the mountains.
Looking from Carn Aosda across to Carn an Tuirc, Sron na Gaoithe and Cairn of Claise
Large wind driven snow feature on Sron na Gaoithe. Difference between South and West facing aspects
Sron na Gaoithe, Cairn of Claise and Garbh-choire
If you are planning on get out on the hills tomorrow (Saturday) – it looks like it might be worth getting an early start as the winds are set to increase steadily through the day. We've got some 'weather' coming through on Saturday night into Sunday – so it's probably worth being tucked up in the pub by the time that hits!
Comments on this post
Got something to say? Leave a comment