Springtime!
19th April 2013
Felt Spring like today!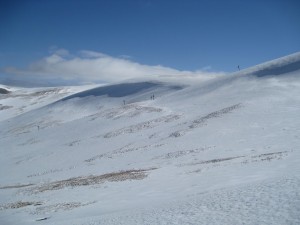 The hills with their summits at around or below 900 metres have very little snow remaining – mostly patches on West and North aspects. The higher mountains though still have extensive cover – especially on West and North aspects (photo below.)
The photo on the left looks across to good cover in the main Cairngorms, and also shows how little snow there is below 900 metres.
There were a number of people enjoying the piste in the sunshine and very light winds. I also spotted ski tourers heading out onto a number of different hills. With the great visibility you could spot the best line back down, getting as much skiing in as you could find.
There are localised pockets of windslab from yesterday's precipitation. They are very obvious and mostly avoidable. It's worth avoiding them as the rest of the snow is fairly firm with exposed boulder run outs, so you don't want to get knocked off your feet by a small slab popping under you.
It's due to be windy tomorrow so there's potential for the existing windslab to get picked up and redistributed onto different aspects. Have a good weekend.
Comments on this post
Got something to say? Leave a comment