Lochnagar 4th April
4th April 2013
Took another trip back into Lochnagar today to see what was happening. Slightly milder temperatures and a much less aggressive temperature gradient in the snowpack has seen an improvement in stability.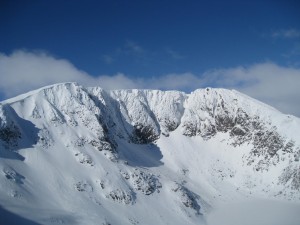 Early morning sun is starting to strip back some of the buttresses
But the cover is absolutely amazing for Spring time
A very snowy Southern Sector
The pressure is building once again with the winds easing and backing Northerly, so long may this great weather continue! Have fun out there – be safe!
Comments on this post
Got something to say? Leave a comment