Lochnagar 27th April
27th April 2013
Lochnagar – 27th April
Stronger winds overnight than expected resulted in a fair bit of drifting – the path up to the Lochnagar col seemed to have collected more than its fair share and required a bit of trail breaking this morning. Black Spout, Right Hand Branch in particular had windslab in it with more blowing in this morning.
Main Cliffs – Right hand branch of Black Spout was holding fresh windslab with drifting occurring this morning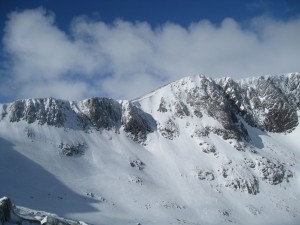 Still amazing cover in the corrie, considering that it is nearly May!
Top left hand side of photograph – Spindrift can be seen blowing from under the large cornice in the Southern Sector

It is a fairly complicated weather forecast for the next period so check out the main report if you are heading out tomorrow.
Comments on this post
Got something to say? Leave a comment