Friday 26th April
26th April 2013
Having been out of the area for the past five days it was fairly obvious when I arrived back that there has been a net loss of snow and it has also travelled from mountain to sea!
However today there was some recycling going on and the precipitation was making the return trip from sea to mountain in the form of wintery showers that blew in intermittently from mid-morning onwards, and have continued all afternoon.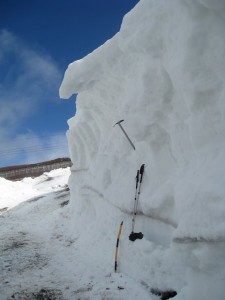 There are still some very large drifts out there: This one is 4 to 5 metres high and is situated at 850 metres in altitude. It is within the ski area and is not entirely natural in its formation due to snow fences etc. but it does give a good indication of the volume of snow that came into the area in March.
Some snow in the forecast overnight and strong enough winds for drifting so there will be some windslab formation occurring. Check out the forecasts for more detailed information.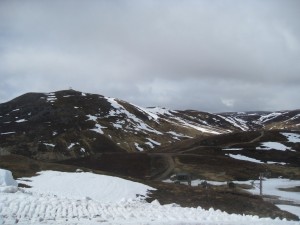 Left – From Glas Maol to Cairn of Claise – patchy cover.
Above – Typical East and South facing cover on sub 1000 metres hills (The Cairnwell)
Comments on this post
Got something to say? Leave a comment