Carn An Tuirc Touring
4th April 2013
As mentioned yesterday it looks like the South Cairngorms have got the best ski mountaineering conditions around at the moment, with great skiing from (and back into) the valley possible. Here are some photos courtesy of Grampian Police Mountain Rescue Team who were out training today. No comments please about 'that doesn't look like work' – they deserve some great days out as well: You should see the weather they usually operate in!
Taxi Anyone? The most popular man on the mountain today!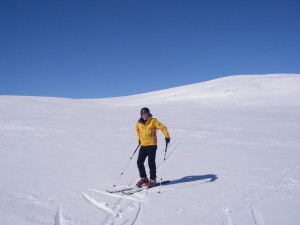 The smile says it all and check out the snow cover!
Some very large cornices around at the moment…
Oops! Never let a SAIS forecaster have free access to your camera! Just to prove that it can happen to the best of them and that it isn't just the avalanche forecasters that get their Defender stuck!
Comments on this post
Got something to say? Leave a comment