Calm before the Storm!
13th April 2013
I took my own advice and got up early in order to enjoy the best part of the day, and was rewarded with very light winds and blue sky.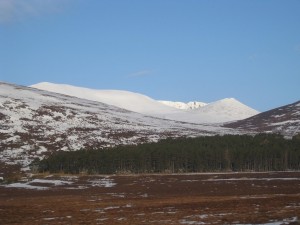 Long view from Glen Muick to Cuidhe Crom, Lochnagar and Meikle Pap
The winds picked up steadily through the day and the cloud increased but it was still great conditions.
There were just a couple of keen climbers in the corrie, today. The sun has stripped back some of the buttresses but the conditions are amazing for mid-April! A couple of skiers have also descended the Red Spout all the way down to the loch side putting some lovely inter-twined S's in the snow. There is one set of avalanche debris in the Southern Sector and numerous single point releases and signs of surface instability in the corrie on many different aspects.
13th of April and Lochnagar is completely frozen with a covering of snow on it…
Okay – Time for me to shut up about how amazing it is out there as I have just read the weather forecast for tonight and tomorrow….. Normally, the idea of sitting in meetings would be a pretty horrific way for me to spend a day. However the fact that it IS what I'm going to be doing tomorrow and I'm quite chilled about it, says an awful lot about how bad the weather forecast is! 2500 metre freezing level tonight with high amounts of rain and 100 mph gusts of wind forecast for tomorrow – I think I'll take the all day meeting option – Thank you!
WHAT IS IT? Click on photo for a larger view…
That is multiple closed roads all now well bonded and stable, ready for some front pointing and tool placement practise! Yep – Lorry loads of snow all compacted and stacked neatly out of the way ready for a little gently overhanging traversing…if you can be bothered at thIs point in the season!
Which leads me on to the fact that we (South Cairngorms SAIS) are nearly done for the season – well you did get an extra week out of us! Today's report and forecast will be the last for four days, but we will be back out on the mountains on Friday 19th April and Saturday 20th April, delivering forecasts for Saturday and Sunday. So you haven't quite got rid of us yet!
Take care out there and follow the weather forecasts closely if you are going out into the mountains for some fun.
Sam
Comments on this post
Got something to say? Leave a comment