And now for something completely different…
10th April 2013
This looks like seriously good fun!
It was a bit cloudy out there today with some light snow showers so I thought that I'd show you a couple of photos of people having fun in the snow!
They were burning some serious calories though – those rings are hard work to drag up hill before you have the fun of literally flying back down again.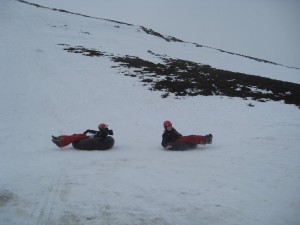 The weather forecast is for similar tomorrow (light snow showers) but with slightly stronger winds and a 700 metre freezing level.
Probably worth having a quick look at the main report if you want to stay out of mischief – there is a real mixture of snow out there at the moment!
However these folk were in a great spot – definitely well bonded and stable!
Comments on this post
Got something to say? Leave a comment