All good things….
7th April 2013
….eventually come to an end. Well it had to happen at some point – and after the stunning week we've had, I didn't feel too cheated when I woke up to low level cloud and then light snow all day. There was almost negligible winds (3mph) on the hills today, so the new snow has fallen as an even thin cover with no drifting of deposits – great for the skiing. It did however hide the occasional icy patch for the walkers – I think I managed to find most of them!
Consequently I didn't bother to take any photos today. However I will share a shot of avalanche debris that came down during the last period of storm instability. It has completely over-run a popular walking path and has ripped up vegetation and small tree branches.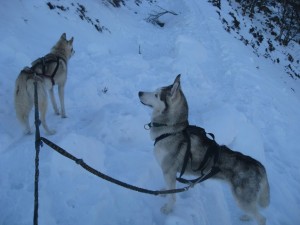 This is the path with up to 1×1 metre blocks on it and down slope of the path. Some of the blocks were 2 x 1 metre in size and the debris pile is reasonably large.
Comments on this post
Got something to say? Leave a comment