The winter that keeps giving.
16th March 2013
More snow today and it looks like more tomorrow as well. Conditions are very mixed, firm in exposed areas and deeper drifts in others. Windslab can be found on most aspects, so some care is needed on route choice.
Dan and Lou enjoying the Scottish touring.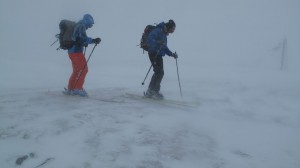 Comments on this post
Got something to say? Leave a comment