High Pressure Continues…
31st March 2013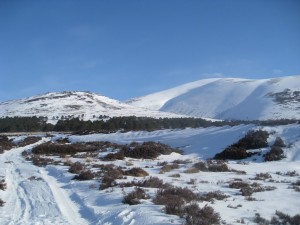 Decided to head into Beinn a'Bhuird today. Unfortunately a bank of cloud chased me in from the south and the light was a bit flat for photos on the top. There is an astonishing amount of snow on some West aspects and in West facing features. Some South facing slopes are starting to present a melt-freeze surface layer as the snow melts during the day and then re-freezes at night. The surface hoar is now well developed in the cold calm conditions: Beautiful to look at and great to ski over!
No four-wheel drive available at the moment so I had to use 4 paw drive instead! And if you think that this looks easy – you have to realise that these guys haven't quite got the idea that I need white track and not brown! The skis now need a service and the forecaster needs a tube of arnica for the bruises!
Another good day forecasted for tomorrow…..Happy Days!
Comments on this post
Got something to say? Leave a comment