Wild and Windy………….again.
5th February 2013
The idea today was to skin into Corrie Fionn, out to the Glas Maol lift (which was closed because of the winds) and over to Glas Maol East face, which readily avalanches in the current conditions. Visibility was poor initially from 800 metres but it got better as the day went on.
Generally it was poor visibility from this level, but it opened up briefly as I passed the GM poma. Fairly icy up here in the fierce winds. I didn't see much after this, didn't find any debris either. Lots more snow knocking around now, tomorrow's winds will move it around a bit and some caution should be applied to route choice.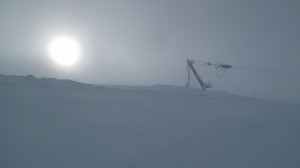 On the way back through Corrie Fionn I found a test slope to play with.
Comments on this post
Got something to say? Leave a comment