The South Face (s)
6th February 2013
Plenty snow blowing around today, most of it ended up on Southerly aspects. Stability wasn't great on those aspects even from lower altitudes. More snow tonight, winds easing tomorrow.
Blowing through at the car park, nice when it cleared, but it stayed windy.
Steep snow on a South aspect, up to 1.5 metres of new snow.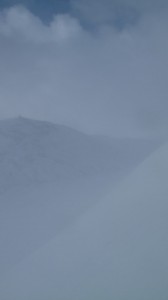 Checking out stability on a small slope.
Comments on this post
Got something to say? Leave a comment