Glen Muick Road
15th February 2013
Got up early this morning so I could get into Lochnagar for a good look around before the weekend. However this is what I met….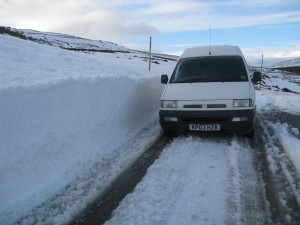 The road may be at less than 450 metres in altitude but there have been some serious drifts across it. Then I came around the corner and met this….
Luckily I was behind him……very impressive bit of machinery at work!
Unfortunately, after having a quick chat I found out that he still had about two hours work ahead of him, which meant that there was no way I was going to get in and up to the top of the cliffs and back out again in time to write up the report. Quick change of plan, long drive and it was up Glas Maol in the cloud…
So the road will be clear for you tomorrow – it may be a little narrow in places – take care. Oh and there are a couple of large potholes developing! Unfortunately you are going to have to break trail yourselves….unless I get up early again tomorrow!
Comments on this post
Got something to say? Leave a comment