Continuous Snowfall
13th February 2013
It has been snowing all day in the South Cairngorms. That combined with very strong winds produced persistent heavy drifting that closed the A93 first thing. This video clip shows the effect at valley level – conditions were too poor to get the camera out in the hills!
There is a combination of deep drifts in the very sheltered locations and wind scoured slopes in the exposed areas. Have a look at the main report if you are heading out tomorrow.
The mountain rescue teams have been very busy recently, but they still managed to find time today to check over the vehicles to ensure that they are ready to go next time they are needed – and that could be any time – day or night!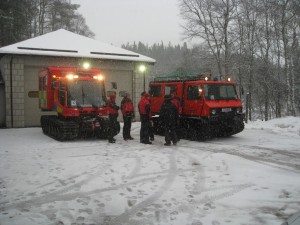 Comments on this post
Got something to say? Leave a comment