Clear cold and windy.
3rd February 2013
Saturday was a game of 2 halves. The morning was clear, cold but very windy. In the afternoon the winds dropped but some cloud rolled in on the higher tops.
Saturday's pit site. Overnight snow and strong winds led to a bit more snow on the Southerly aspects than expected. There are some deeper areas around but they are localised.
A short clip investigating stability on certain terrain features.
Glenshee Ski Area looking busy. There were many ski tourers out today as well.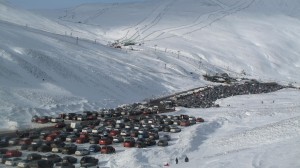 Comments on this post
Got something to say? Leave a comment