Thank You!
19th January 2013
Having made fresh tracks driving down the glen getting home last night, it was down to these lads that I managed to get back out to work this morning. Not only do they help to keep the A93 clear, they also come down the local roads as well. And thanks also to Wilson for the fastest return journey I've ever had from Meall Odhar to the road! Ski bike…if you were wondering about the method.
Some work needed to get the A93 open this morning (at 650m)
Moving around on foot at present can be very hard work – getting through the drifts can be knee deep or higher. Snow shoes or skis would work for ascending…although ski descents might still be interesting! There are many small terrain features out there that I would normally drop into quite happily that I avoided today. Significant quantities of windslab have blown into sheltered features that make nasty terrain traps.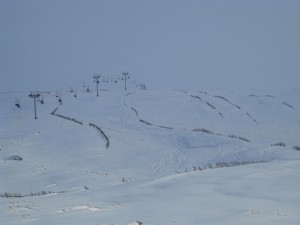 Although a little frustrating in the short term for us mountaineers, the piste skiers were out enjoying themselves at the Glenshee Ski Area. Some even managed to make 'first tracks'. The guys were working hard up there today to get even more open for tomorrow.
Comments on this post
Got something to say? Leave a comment