Ski touring
24th January 2013
I had a few runs today in the ski area before heading over to Corrie Dhirich then Loch Vrotachan. Yep, didn't see anything! Great snow when you find it….. otherwise hard work in the poor light. You swap from great snow to rocks very quickly.
Tomorrow will possibly see a change, more snow and winds, hopefully it won't all blow away! Check the latest forecast for timings!
Snow was fantastic down this slope.
It's that-away, I think.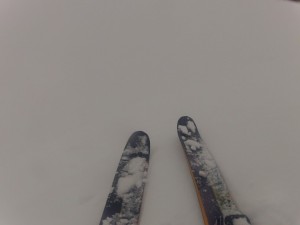 Comments on this post
Got something to say? Leave a comment