It's snow fun!
20th January 2013
A lot of people were having a lot of fun today….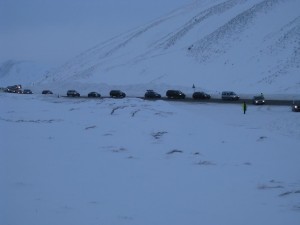 This is the A93 at a standstill as a steady stream of vehicles appeared from both directions, wanting to park up and ski, sledge and generally have fun in the snow. The car parks rapidly filled up.
These guys were also out training today. Braemar, Grampian Police and Aberdeen Mountain Rescue Teams all gave up their Sunday to train so that when the worst happens they are ready to give the best possible assistance available.
They are also pretty switched on to the conditions – Note the use of snow shoes – Ideal for getting around at the moment.
I was really pleased to see a surprising number of ski mountaineers in the area today – If you are sensible and choose the right line, there is some great snow out there.
However – caution required – It looks like we are in for another 'snow event' tomorrow, so check the various forecasts out if you are thinking of heading into the hills. Will hopefully give you an update tomorrow.
Comments on this post
Got something to say? Leave a comment