Heavy Snow
22nd January 2013
The snow arrived yesterday afternoon and continued right the way through the night. Consequently we woke up this morning to big drifts and road closures. The A93 is still closed at Braemar (14.30hrs) and looks like it will stay that way until tomorrow…..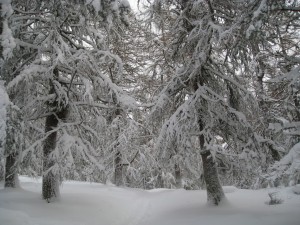 Snow shoes are essential for any kind of meaningful travel once you get out of the trees on to the open hillside. The snow was thigh deep and occasionally deeper at 400 metres.
There is a fantastic amount of snow around – just take it steady and think about where you go to play! Climbers…..it's going to take a while -we need a melt/freeze cycle. Skiers….yep there's powder out there – just be careful where you go. I could have worked in 150cm of fresh snow just out of the treeline at 450 metres.
Comments on this post
Got something to say? Leave a comment