Good Skiing, Limited Visibility
31st January 2013
After wind speeds reaching 122mph on the summit of The Cairnwell in the last 24 hours it was a joy to step out of the car in windless conditions at the Glenshee car park. A little fresh snow had fallen overnight and the skiing looked good.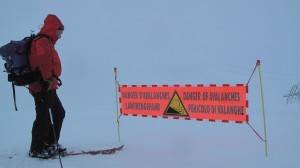 The snow was dry enough throughout the Centre. On Glas Maol the main gully run was still closed in the morning.
160 cms of snow at the profile site in Corrie Fionn.
The last little Christmas cake back at base…
Comments on this post
Got something to say? Leave a comment