After the thaw.
27th January 2013
Things were looking slightly different today after last night's thaw. Most of the superficial snow had gone from the hills with valley snow melting fast. I stopped at Carn Aosda today after noticing a couple of crown walls and debris.
Not a great picture, it was very windy but a third of the way down the gully you'll see a crown wall, around 40cm with the debris travelling 50 metres or so. There was another one to the right of this.
A view over towards the White Mounth Garbh-choire. Some superficial snow gone, but the good news is that none of this will blow away now!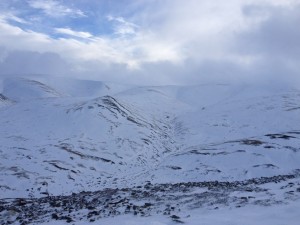 Comments on this post
Got something to say? Leave a comment