Lochnagar Avalanches
23rd December 2012
Yukon and Ice not too happy about having to sit in a large pile of
avalanche debris, in the Southern Sector of Lochnagar on a NW aspect.
Flat light giving poor definition of what was quite a large avalanche.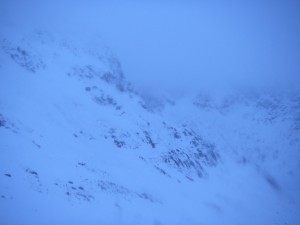 The cloud refused to lift to give a decent view of the main cliffs!
The burn was running high this morning and had to be crossed much higher up.
It was fast flowing, knee deep and very cold on the way out!
Comments on this post
Got something to say? Leave a comment