Creagan a' Choire Etchachan
25th December 2012
We had a walk up to Creagan a' Choire Etchachan today. Today the snow was mostly refrozen and crusty.
The recently improved Hutchison Hut. The wood burner will make a huge difference. There were a couple of guys staying in the hut. They had ski toured over from Aviemore side. We also saw a few people heading in with BIG packs so I'd expect some of the bothies to be used over New Year.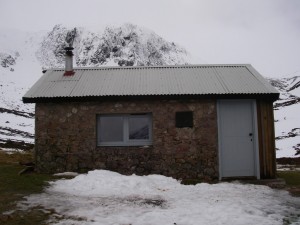 The crags were much whiter than we expected them to be. Some parts still had ice on them.
Looking forward to Christmas dinner!
Comments on this post
Got something to say? Leave a comment