Local knowledge
10th March 2012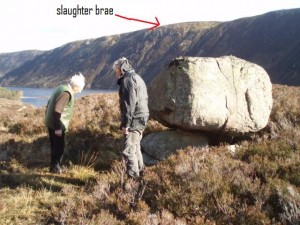 Local knowledge and the experience of others is fundamental to a good understanding of avalanche conditions in every snow climate region. We were very fortunate yesterday to spend time with Dr Adam Watson (centre), John Roberston (right) and Raymond Simpson, pictured (with Derek Pyper and Peter Steele.)
John was Glen Muick keeper on the Balmoral Estate and grew up there, as did his father. His avalanche stories and names of avalanche features; "slaughter brae" for instance is a gully that runs into Loch Muick is encyclopedic.
Note the boulder that John showed us, both where it was before and after the avalanche. It was moved about 20 meters.
Comments on this post
Got something to say? Leave a comment