Glas Maol
6th March 2012
Today I went to Glenshee and headed up towards Glas Maol on the East side of the A93. The picture below is of the top of Coire Fionn, the partially covered snow ridge facing the camera being the "normal" route to the top. The snow was iron hard in most places but with drifts of soft wind blown snow in sheltered locations.
The area around the profile site for today (near to where photo below taken) is close to ideal for those looking to practise their winter skills with axe and crampons. Short slopes up to 40 degrees, many with good run outs below. Short walk in!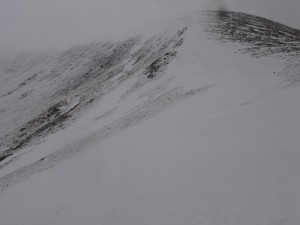 The snow profile below was done on a sheltered aspect today. The recent accumulation of new windslab is clearly visible above the thermometer 10cms below the surface.
Comments on this post
Got something to say? Leave a comment