Creag an Dubh Loch
2nd March 2012
With Lochnagar being visited yesterday I decided to head to Creag an Dubh loch on Broad Cairn today. Looking North West to Carn an t-Sagairt snow is restricted to patches on high Easterly aspects.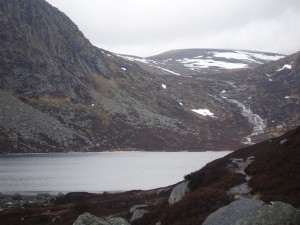 I had hoped that despite the low elevation of the cliff Central Gully would still be complete due to its North Easterly aspect. I thought it would make a good location for the snow profie but as can be seen in the photo below it wasn't.
This magnificent cliff has classic rock routes like King Rat and Mousetrap.
To the North of the Dubh Loch is Eagles Rocks. Often many ice courses form here but none today.
Comments on this post
Got something to say? Leave a comment