Corrie Fionn, Glas Maol
9th March 2012
Very little snow remains in the hills around Glenshee. A lot of it is in the picture below…. For those keen to use their axe and crampons the old snow on shaded aspects remained firm today despite temperatures reaching plus 5.5 centigrade on the summit of The Cairnwell.
Walkers ascend the bare North-West ridge towards the summit of Glas Maol from Meall Odhar.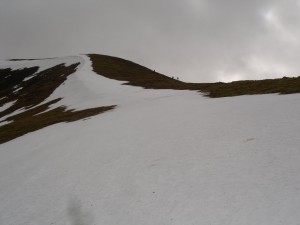 Below, looking Northwards down Glen Clunie and the A93 to Bramar.
Valley temperatures reached 15 degrees today. More low level walkers and cyclists appearing on Deeside by the day.
Comments on this post
Got something to say? Leave a comment