Lochnagar
14th February 2012
Walking into the corrie of Lochnagar I firstly met a group from Holland on a week long backpacking and camping trip. Apparently they follow the SAIS blogs from there regularly.
Next I met the four in picture below intending sleeping in the corrie this evening.
The photo below is of Parallel Buttress with Parallel A to the left and B to the right. Climbers visible on first pitch of the buttress decided against it and headed off elsewhere. Despite the above freezing temperatures of recent days ice does remain in places. West Gully ok but Polyphemus looks very thin.
The party of four (in the top picture) head up Black Spout. I hope they sleep well in the corrie tonight!
It was very windy today with summit gusts in excess of 80mph. The temperature at 900 metres was around plus 2c.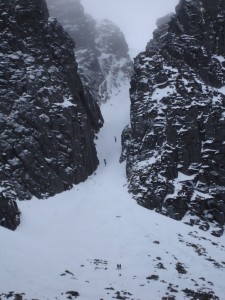 Comments on this post
Got something to say? Leave a comment