Glas Maol
11th February 2012
Turned out mostly sunny here today. Plenty people about enjoying the on piste ski-ing and walking. Off piste touring options a bit limited but there were a few trying!
Today I went to Glas Maol, mainly to take a few pics of the avalanche that occurred on Thursday and also to see if there was any trace of a slide triggered on Monday by a machine from the ski area.
I dug in a few locations today. The weakest layer I found was 120 cm down in snow that was 3.5 metres deep on a NE aspect at around 950 metres. It is consolidating nicely and due to freeze tomorrow but it's worth a note to say the weak layer is still there.
A lone walker making his way up the main path on Glas Maol. The crown wall is in front of him, debris in the corrie.
He may notice several propagation cracks extending from the crown wall back to within a few feet of the main path.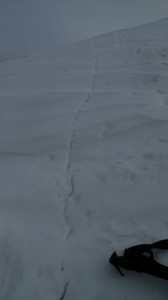 Crown wall, extends a good 60 metres beyond as well as a seperate lower wall as well.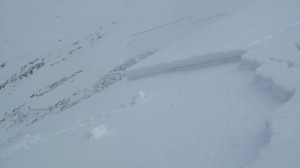 And the other way……….crown way nearly a metre on this side.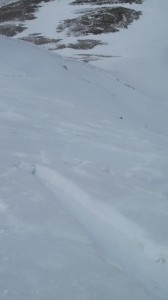 Some ski tourers setting off from near the summit. It cleared later on.
Comments on this post
Got something to say? Leave a comment