Beinn a' Bhuird
25th February 2012
Today we headed into Beinn a'Bhuird from Glen Slugain. Conditions for walking were excellent….if it had been early May. Coire na Ciche pictured below with the prominent tor A'Chioch top right. Most of the climbing in the corrie is on the south wall, the broad buttress to the left below.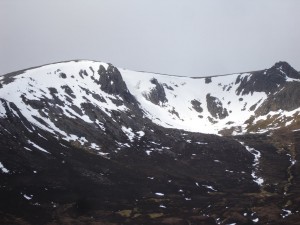 Still lots of snow in the corrie and no shortage of opportunities for "mountaineering" with axe and crampons. Looking up South Corner Gully. Bottom part of Twisting Gully partly visible to left of photo, probably the best of the lower grade routes in the corrie.
Throughout the corrie there is a lot of old debris. There is evidence of pretty recent cornice collapse also.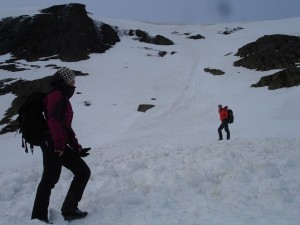 Below is the profile site high up below Slab Buttress. Still over 2 metres of snow here.
In the current conditions of little snow Coire na Ciche (or its neighbour to the North, Coire an Dubh Lochain) are a great day out. Probably worth taking a bike to help with the approach from The Keiloch car park at Invercauld.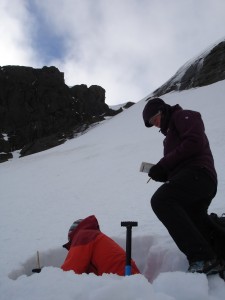 Comments on this post
Got something to say? Leave a comment