Lochnagar Friday
6th January 2012
Shortly after midday the Corrie of Lochnagar from the col by Meikle Pap. Quite a bit more snow on the apron directly below the crag than there has been recently.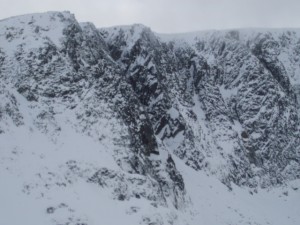 Looking onto Eagle Ridge (centre) with Parallel A and B to the right. Not much evidence of ice buiding up. The temperature at the profie site at 900 metres today was plus 2 and cooling is forecast.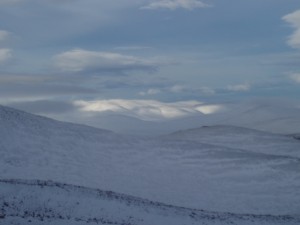 Distant view to the North-West. Good cover high up on Ben Avon.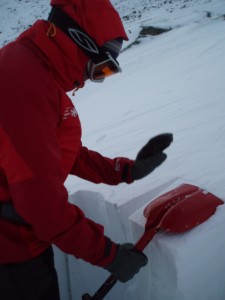 Tap Test at the main profile site for the day. Easterly aspect. Significant amount of windblown snow but stability moderate to good.
Decision before leaving the car in Glen Muick was to ski or not to ski. We skied and it was ok….up the landrover track, followed path to col, traversed over below Cuidhe Crom towards Little Pap and back down the edge of the burn to Allt-na-giubhsaich waking the last mile to the valley.
Cuidhe Crom in background. Deep drifts along the burn as a resut of the recent North-Westerlies.
Comments on this post
Got something to say? Leave a comment