Devil's Point
23rd January 2012
A camera issue at the main profile site today results in today's photos being from elsewhere in the area.
This photo is of Coire Odhar above The Devil's Point. Scoured terrain on the ridge that leads to Cairn Toul but lots of snow deposited in the East facing corrie.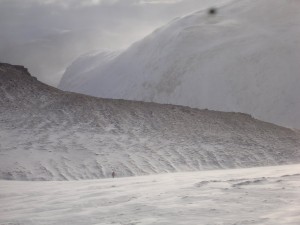 Another example of scouring and deposition. Looking down a heavily loaded South East aspect onto a stripped North West aspect. Beinn Bhrotain in the background.
Lots of snow blowing around today. Windy and cold on the tops. Not much new precipitation and good visibility for most of the day.
Comments on this post
Got something to say? Leave a comment