Lochnagar
16th December 2011
Walking up the track from Glen Muick towards Lochnagar…..wishing we had taken skis! Probably possible to ski from about 1km above the woods towards the col between Little Pap and Cuidhe Crom.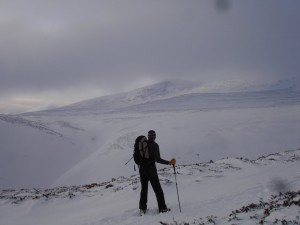 The blue sky on the picture below was the only blue we saw after leaving the valley. Taken from the col by Meikle Pap the West ridge of Lochnagar appears briefly.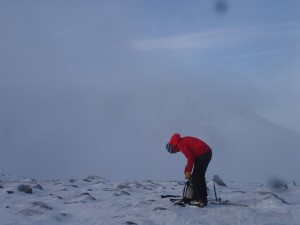 This was the best visibiity we had and it only lasted a couple of minutes. We had hoped to post some better pictures of the cliffs today.
The main profie site today at the East side of the Corrie just below the Ladder path. 45 degrees with the wind blowing back up the gully. Cold and not many people around, (only 2 from Finzean)!
Comments on this post
Got something to say? Leave a comment