Snow Transport on Lochnagar
17th March 2011
Waking in Ballater to low cloud and heavy rain our expectations for the day were not great. The rain had stopped by the time we left the car park in Glen Muick. We skied from the car. Once off the track and heading towards the col by Meikle Pap the wind started to blow. Quite a few photos today; their main theme is "snow transportation".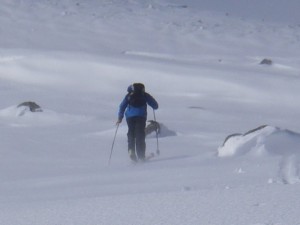 The West wind howled over the ridge as we skinned south towards Cuidhe Crom for the snow profile.
Higher on the ridge looking due South. The sun reflects off the bare polished ice.
Having dropped to the East side of the ridge conditions were slighty more pleasant. There was a significant accumulation of new slab, the snow redistributed onto this more sheltered aspect by the West wind. Here during the "tap test" the snow sheared on a layer of graupel 20 cms down from the surface.
Comments on this post
Got something to say? Leave a comment