Snow Profile at Plus 6
25th March 2011
At today's profile site the air temperature was 6 degrees. In these conditions it is important after having dug the pit to run the shovel down the side wall exposing a new surface immediately prior to the observations being taken. In these warm temperatures the exposed face changes very quickly.
Here the gloved hand tests for resistance. In this case "four finger" of "4F". Note the large melt freeze grains on the surface. These are typical of a spring snow pack.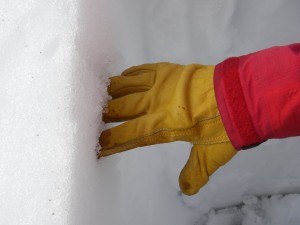 Far down in the snow profile today we found (to our surprise) a layer of cold snow "rounded grains". These small crystals (on the right of the card below) have not been through a melt freeze process and are only 0.5mm in diameter. The crystals to the left are the melt freeze grains from the surface and are larger at 2mm diameter.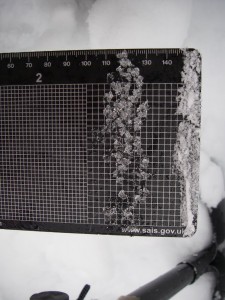 Comments on this post
Got something to say? Leave a comment