Lochnagar Corrie
24th March 2011
Today was the first morning there was ice on the puddles for several days. Walking into Lochnagar today it was difficult to believe it was only five days ago that we skied to the top from the Glen Muick car park. There is now very little snow low down though cover on the plateau looks good still.
Parallel A is still complete. In the corrie the snow in the shade had a crust on it but in many places we were breaking through to deep granular snow below. We saw no one climbing today.
The Black Spout. (On the right below)
Over to the sunny side of the corrie is West Gully.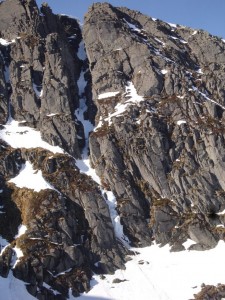 Comments on this post
Got something to say? Leave a comment