Carn nan Sac
5th March 2011
Late morning on Saturday the cloud level lowered as we skied round the corrie on the way to Carn nan Sac from Glenshee Ski Centre. Temperatures overnight had not dropped much and the snow was pretty soft in places lower down.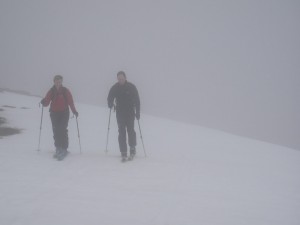 As the snow profile site was prepared around lunchtime blue sky began to appear overhead. The weather then steadily improved for the rest of the day and views were magnificent.
Whilst heather is pretty evident in places there is no need to remove skis when touring to the West of Glenshee. The afternoon snow was great for turning as the light improved.
Comments on this post
Got something to say? Leave a comment