Lochnagar pics
1st February 2011
Perhaps not the most snow we've seen in the corrie but what's there is generally pretty good. It was a windy day and I passed a few climbers who decided to leave it alone for the moment. There was a couple of guys on Shadow A.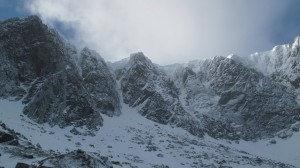 Pic: Looking up Polyphemus Gully.


Pic: Looking up DG Gully.
Pic: Black Spout Right Hand.
Pic:Fat Ice, West Gully. Sometimes there was an ab point at the top of the ice. You could get this ice done and another route. I don't know if it's fixed now.
Anyway, warmer tonight, lets see what survives!
Comments on this post
Got something to say? Leave a comment