Lochnagar
29th March 2010
It was a cracking day with light winds and plenty of sun. In Lochnagar, buttress routes look a bit blacker lower down with some very white exits! Gullies have plenty in them. There is still good cover of snow above 850 metres. After a drop in the freezing level the snow cover is very firm.

Black Spout still full. West Gully still holding ice.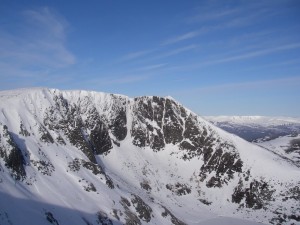 Summit, looking towards the Cairngorms.
Paul Noble
Comments on this post
Got something to say? Leave a comment