Unstable layers in the snowpack
29th January 2010
Lots of blowing snow but also some very welcome sunshine. The elevation here was about 750 m.


A burp test gave an easy shear at the base of the newly formed windslab.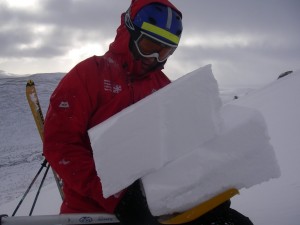 A Ski Rutschblock test failed on score 3 (easy) on the same layer as the burp test above. Note also that the whole block slid off in one piece, indicating that fractures have the potential to propagate easily at the old snow/windslab interface.
Comments on this post
Got something to say? Leave a comment