Large cornice triggered avalanche
22nd January 2010
Here's a large avalanche that was triggered by cornice cutting. Definitely ran bigger than expected. The average crown height was 45 cm but in places it was at least a metre.
There were some really big chunks of debris…

Here's a picture of the fracture line showing the rain crust from Sunday 17th Jan (purple arrow) and the failure layer (red arrow), which was a thin, soft layer of partly decomposed snow.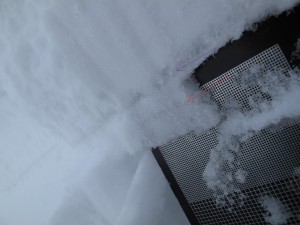 Comments on this post
Got something to say? Leave a comment