The thaw continues.
12th March 2009
It would appear the thaw started taking hold late yesterday and evening. There was a lot more debris in the Corrie today, biggest being significant amounts from the Raeburns/Black Spout combo. I was surprised to see that most of the cornices are hanging on, it was slightly cooler today perhaps it was enough to keep them there. Black Spout RH had not got a cornice, but I didn't see up the LH route.
Grampian Police MRT and a couple of members from Braemar MRT were in the corrie today. They intended to do a big lower but it was very windy on top, well worth avoiding standing near edges today!!
Pic: The Corrie today.
Pic: New debris from Douglas Gibson. Note a bare Eagle Ridge.

Pic: Looking to Black Spout.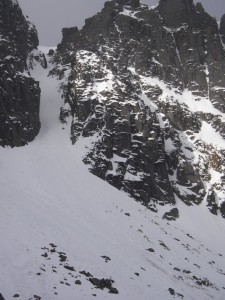 Pic: Grampian MRT practice lowers on the rocks under the gear up point before going to play on the last of the ice on the crags by the approach track.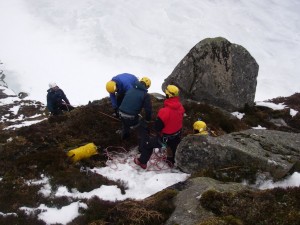 Pic: A confident looking Dr Teale about to be dropped into Lochnagar.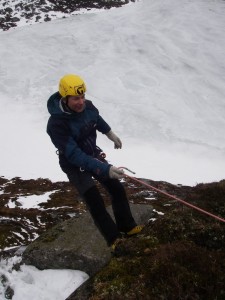 Comments on this post
Got something to say? Leave a comment