Lochnagar 11th March
11th March 2009
Had a wander into Lochnagar  with Ali today. Not much doing really. There was no rain and the thaw had not fully taken hold when we were out. There will probably be some activity overnight but it should cool down tomorrow. All the easier gullies will survive this thaw.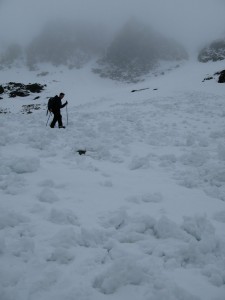 Pic: Crossing debris, Central Gully above.

Pic: Looking towards The Black Spout.

Pic: Central Buttress on left, Douglas Gibson on right.

Pic. Digging out and checking contents of rescue box.
Comments on this post
Got something to say? Leave a comment