going…going…..?
15th March 2009
Today was pretty uninspiring. You can see the snow going on a daily basis. Had a quick visit in to Lochnagar last night, easier gullies are still there, as are some of the cornices.
Forecasts are saying colder possible snow end of this week. Let's hope.
Pic: Looking to the main Cairngorms.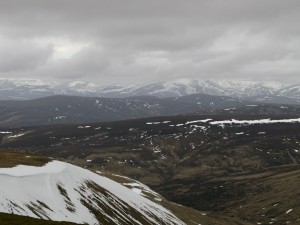 Pic below : All our ski touring gone. Looking up towards Glas Maol. Not a surprise to see that Glenshee has now closed for the moment.

Comments on this post
Got something to say? Leave a comment