All change (again)!
8th March 2009
Well it was back to winter again after yesterdays thaw. Older snow has mostly refrozen and there was new snow but perhaps not as much as the forecast suggested. It had been very windy overnight. There were gusts of 73mph recorded on Cairngorm but gusts of 85mph recorded at Cairnwell, which is significantly lower, so lots of scoured areas with deeper drifts in very sheltered locations. 
Today wasn't as bad as I thought it would be, the winds were light first thing but gradually got stronger and the snow showers were not heavy. Â It was still poor visibility today but I suspect there were avalanches.
Pic below, same place (24 hours later) as yesterdays blog pic but -5 today.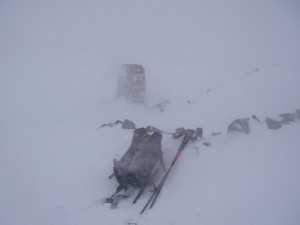 Comments on this post
Got something to say? Leave a comment