Yep – more snow!
5th February 2009
Ended up having a ski in to Corrie Etchachan. Red Chimney and the Dagger were holding ice.
You can pretty much ski tour anywhere but it is hard work in the fresh snow, likely to get better soon, great cover though. You can ski from the roadside, in fact the forest skiing will be fine too.
Hopefully the roads will be in good shape shortly. The Glen Muick road was closed this morning, I'll update the road situation  tomorrow.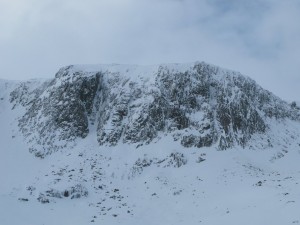 Pic: Main crag.

Pic: Red Chimney and the Dagger, which is complete just can't see it all from this angle.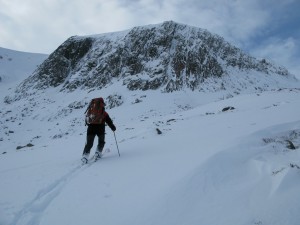 Pic: Malc slugging it out.

Pic: Malc crossing the Loch.
Comments on this post
Got something to say? Leave a comment